SHOP THE COOLEST HAIR ACCESSORY TRENDS FOR FALL/WINTER 2019-2020: SCRUNCHIES AND TRENDY HAIR PINS
Scrunchies are the most fascinating part of hair history. I mean how amazing is a piece of scrap fabric and some elastic that can make the trendiest and useful hair accessories. It is a re purposed craft gone cute! The benefits go beyond looking stylish and cute. Scrunchies are gentle on the hair and prevent snagging and pulling.
Need a little history about Scrunchies? Well, Scrunchies were the ultimate 80's accessories. If you wanted to be cool, you owned many of these things. However in the 2000's, they were the most un-cool and outdated fashion accessories. No one dared dream scrunches would somehow become cool... again!
Some may refer to them as their new termed name for these comfy pony tail hair holders- hair clouds. Shop super-cool scrunchies at affordable prices here!
HOW TO WEAR THE SCRUNCHIE: HAIR CLOUD TREND
1) Add a funky retro vibe and wear it high up in a half-pony, half up-do with a modern print scrunchie, as seen on this LEOPARD SPOT SCRUNCHIE. 
2) Whether you started your day with messy ponytail or plan on putting your hair up later on, or just living by each moment, take advantage of the oh so many different adorable prints and styles of scrunchies by flaunting them on your wrist. No need to hide these hair clouds away in your pocket or handbag! This '90s staple piece looks equally stunning when worn as a bracelet. Yes, you may layer as much as you want! Take a risk and try a bow scrunchies around your wrist. They are the cutest type to use as a bracelet, so adorable and feminie! This Mustard Yellow Long Bow Scrunchie adds a feminine-glam, vibe to any casual outfit. Then when you need it wha la! Its holding your locks up...with style of course. #Genius. You'll be hearing this all day/night- "Where'd you get that scrunchie"?
3) Low Ponytail adorned with a scrunchie with added cute bobby pin.
4) Try an up-do secured with a scrunchie and clip bottom fly aways with a rhinestone statement gator claw clip.
5) Side low ponytail is easy and feminine. Try classic gingham prints in neutral colors!
6) How about a side pixie tail for shorter hair? We can all wear scrunchies, even those with pixie cuts!
7) Celebrate holidays like Halloween with a serpent hair pin!
 8) Securing a deocrative hair pin on the side is a style that works for every hair type and style. 
9) Personalize it! How about a custom hair pin in the initial of your name, your child's name or gift it to someone you love. 
10) Word message bobby pins in shiny rhinestone is so chic!
 11) This look is so cute! Use this stretchy letter name bracelet to tie your hair. Then when you want your hair down, back to bracelet mode it goes.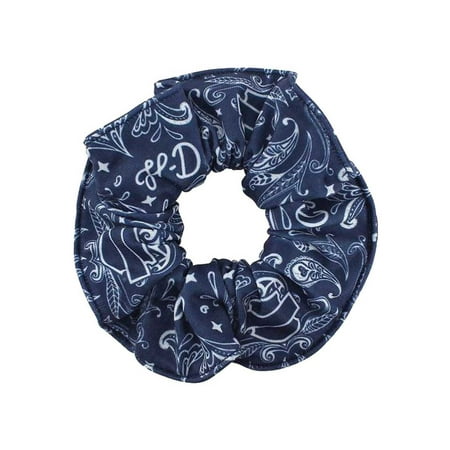 12) Make a statement with different prints! Scrunchies are so fun :)
HARLEY-DAVIDSON H-D SCRIPT HAIR SCRUNCHIE
Super soft scrunchie that is easy on your hair, made from 95% polyester and 5% spandex. Pull back your windblown hair and those crazy flyaways with this adorable scrunchie!